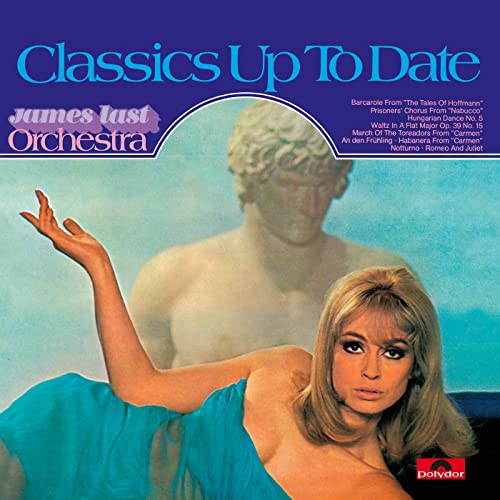 Der Titel ist doch eine Frechheit, oder? Da kommt dieser Herr Last und erzählt den Kollegen Brahms, Verdi, Bizet und Grieg, dass er sie jetzt mal auf den neuesten Stand bringt. Und wie macht er das? Zuerst mal mit ´ner halbnackten Tussi auf dem Cover, die ahnen lässt, dass es auch in den 70ern schon Botox-Lippen gab.
Aber zugegeben: so mit swingenden Flöten unterlegt lässt sich die Barcarole aus Hoffmanns Erzählungen doch ganz anders aushalten. Und Verdis Gefangenenchor: mit Hi-Hats und einer Armada von Tambourin-Schlägern – cool!
Gut, hier besteht die Chance, dass es sogar bei Verdi mehr geswingt hat. Wenn man´s zu arg treibt, klingt´s in der "up to date"-Fassung doch ein bisschen fließbandmäßig. Ja, das ist es wohl, was böse Menschen als Fahrstuhlmusik bezeichnen.
Brahms Ungarischer Tanz Nr. 5 – mit Partystimmen-Gewusel und Unisono-Frauenchor auf die Silbe "Ha". Nun ja. Ich sag mal so: Nichts für Puristen! Griegs "An den Frühling" mit demselben Frauenchor, der klingt, als könne man frühe Edgar-Wallce-Filme damit unterlegen. Dvorak, Bruch, Tschaikowsky, Borodin – und alle klingen sie gleich. Ja, hey. Das ist doch auch ´ne Leistung.
Und überhaupt. All diese Stücke hört man – in anderen Einspielungen – auch auf den Kulturwellen im Radio. In Sendungen wie "Klassik-Hits auf Wunsch" oder so. Nö, diese "Classics up to date" ist nicht so mein Fall. Obwohl ich auch die Originale nicht brauch.