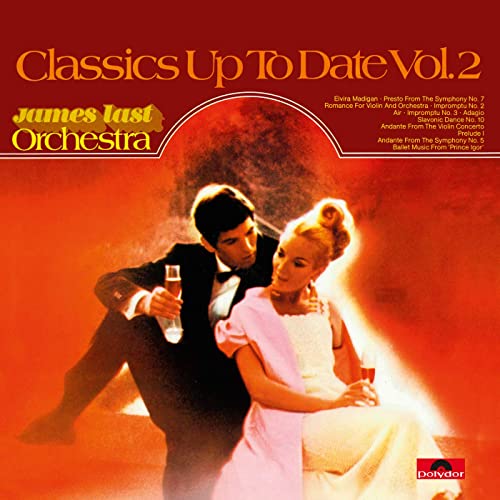 Also, das lässt sich schon viel besser an als Classics up to date 1. Die war ja wirklich kaum zu ertragen. Hier ist bedeutend mehr Pep drin. Und die Frau auf dem Cover hat auch schon mehr als eine Marmorbüste neben sich: nämlich einen Lover und ein Glas Sekt. Das ist doch schon was.

Liebe englische Käufer dieser Platte, lassen Sie sich nicht verwirren. Auch wenn der erste Satz des englischen Covertextes lautet "A hitherto unknown side of the List-Sound ist heard here" – es heisst immer noch Last, nicht List. Schauen Sie ruhig mal rüber zum deutschen Text: "Eine bisher kaum gekannte Seite des Last-Songs wird hörbar." Der Mann heisst tatsächlich James Last, und nicht Jimes List.
Nein, hier lebt der Sound doch richtig. Das ist toll. Und ich dachte schon, alle E-Musik-Werke sollten zum James Last-Sperrgebiet erklärt werden. Die Idee, eine Percussiongruppe durch das komplette Presto aus Beethovens Siebter zu ziehen, ist klasse. "Akustischer Milchbrei" hat es Michael Naura genannt. Naja. Ähem. Der ist bestimmt nur neidisch. Wieviele Platten hat denn Michael Naura verkauft, hm? Nun.
Natürlich darf man James Last jetzt nicht, öhm, Miles Davis gegenüberstellen. Oder Charlie Mingus. Aber dem Orchester Mantovani. Den Les Humphries. Den frühen Bee Gees. Und dann wird man sehen: das rockt! Borodins "Prinz Igor" mit flotter E-Gitarre. Yeah!
Deshalb: wer es vermeiden kann, bei der "Classics up to date" zuzugreifen, der tue das bei der "Classics up to date 2".