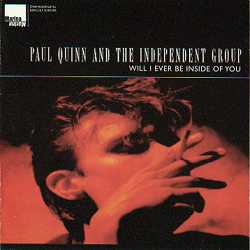 Nachdem Scott Walker uns schon seit Jahren seine neue Solo-LP schuldig bleibt, schickt sich jetzt Paul Quinn an, die vakante Stelle des Bombast-Schnulzen- Sängers-für- gehobene-Ansprüche anzutreten. "Will I Ever Be Inside Of You" kommt daher mit Stücken bis zu 9 Minuten Länge, so viel Theatralik in der Stimme, wie Scott Walker in seinen herzergreifendsten Zeiten und jeder Menge Herz-Schmerz- Thematik.
Dazu hat Quinn für sein neues Albums eine ganze Riege namhafter Ex's aufgeboten: Mit dabei sind James Kirk (Gitarre, ex-ORANGE JUICE), Campbell Owens (Bass, Ex-AZTEC CAMERA), Blair Cowan (Ex-Lloyd Cole & The Commotions), Mick Slaven (Gitarre, Ex- BOURGIE BOURGIE/DEL AMITRI), Postcard- Impressario Alan Horne und Andy Alston (Keyboards, ex-DEL AMITRI).
Die Vorabauskopplung "Stupid Thing" wurde vom britischen Melody Maker, der Quinn nicht nur mit Scott Walker sondern auch mit Bryan Ferry und David Bowie vergleicht, bereits mit blumigen Worten zur "Single der Woche" gekürt: "Das Beste seit 100.000 Jahren".
Hugh!
Quinn and the Independent Group: Will I Ever Be Inside Of You
(Marina/Indigo)